Hello, reader. Long time no see! It was quite a fun Sunday, Nov. 9th, I spent at the MachinExpo 2008 in Second Life (SL).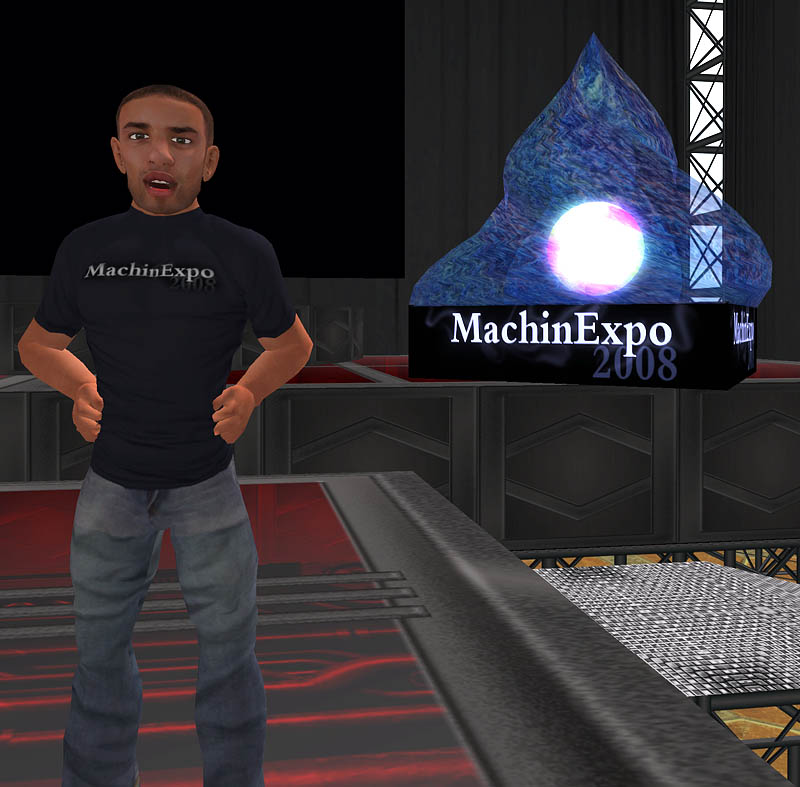 Here's Sol Bartz standing near the MachinExpo 2008 Award (click image for full size).
Lots of machinima folks I admire and respect were in attendance while the design and layout of the exhibits, theaters and stages was top notch! Wherever I roamed it was apparent that Phil Rice, Ingrid Moon, Damien Valentine and Ricky Grove worked hard and put a lot of thought into their project. They gave their time, talents and energy to the community yet again and as far as I'm concerned put down yet another successful stepping stone in machinima's path.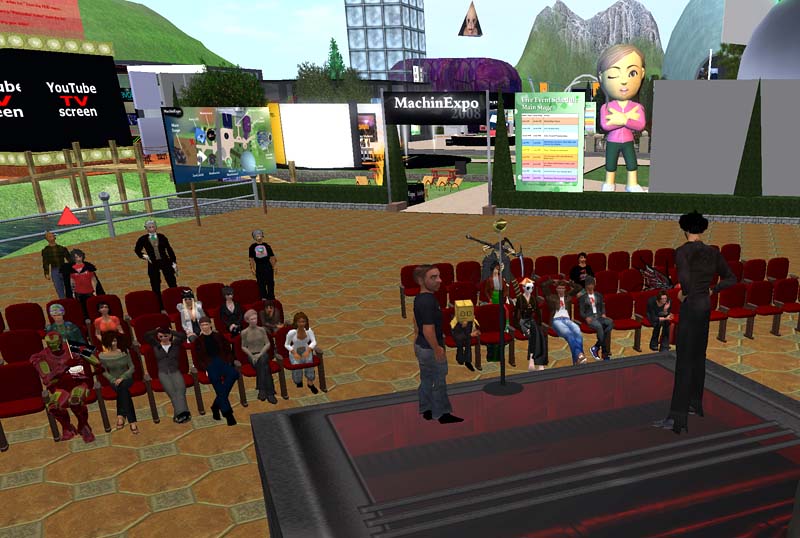 Preparing to hand out the awards (click image for full size).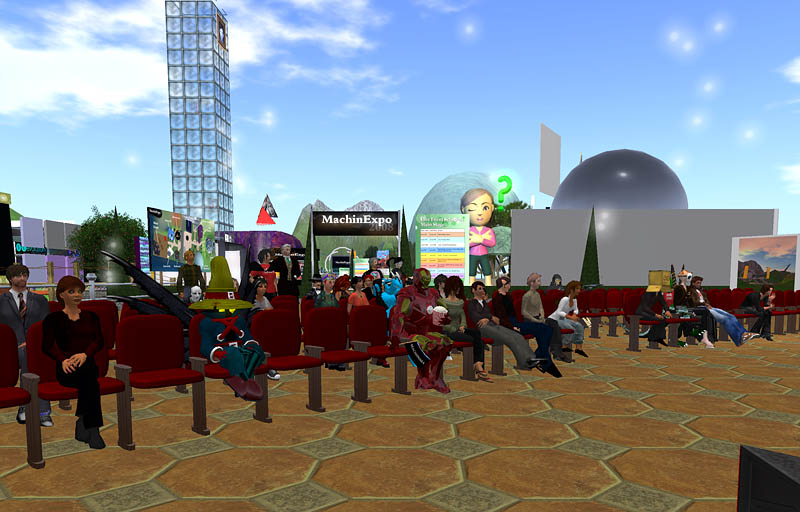 Attendees watching the awards ceremony (click image for full size).
My congratulations go out to the award recipients and finalists. All well deserved! It was a great chance for me to watch movies with other machinimators from around the globe. The organization of the film reels was varied and well thought out. Entertainment was easy to find no matter what theater I visited.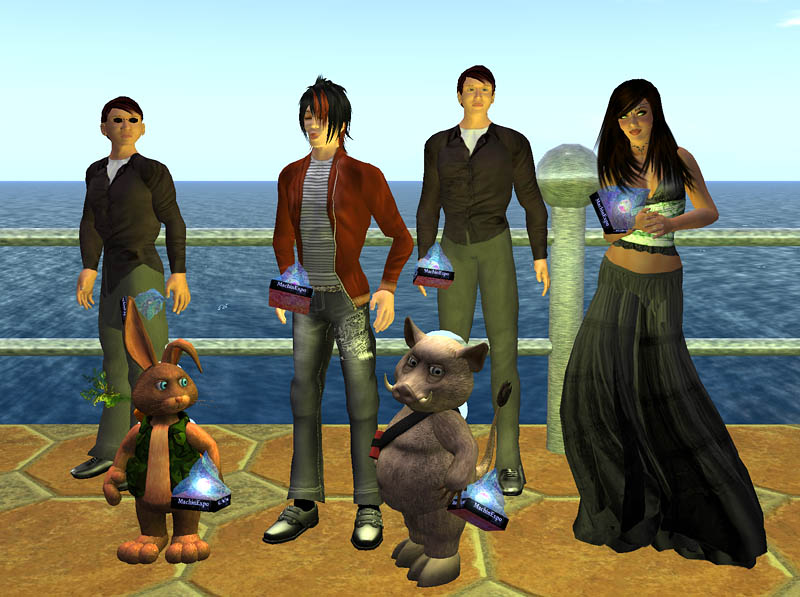 Some of the award recipients (click the image to see everyone). Leo Lucien-Bay won the jury award for Beast (not shown); Ian Chisolm won for Clear Skies; Michelle Pettit-Mee won for The Snow Witch; Thuyen Nguyen won for An Unfair War; J. Rojas won for Turbulence and the Ill Clan won for Tiny Nation.
The panel on Women in Machinima was quite thought provoking and fun. It was good to see that exchange. I must apologize for babbling on in text with questions and comments during the panel. Didn't mean to be disruptive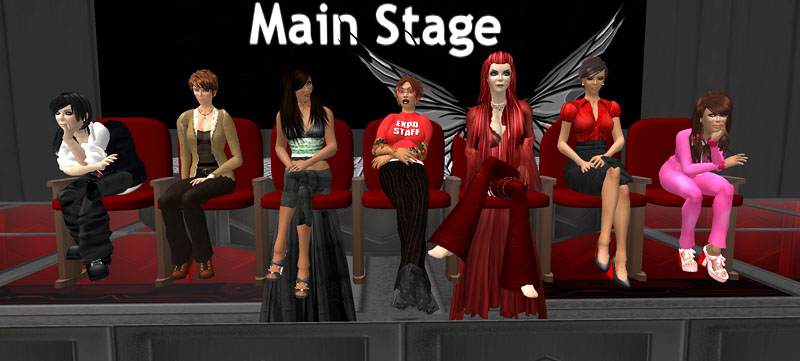 The Women in Machinima panel members (click image to see everyone).
Having been to plenty of large gatherings in SL, I can say without a doubt that technically the MachinExpo was one of the smoothest run events I've been to. During the day I took a few looks at the stats and clocked up to 65 avatars using the simulator (a square of virtual environment that users and objects inhabit). There could have been even more at times; I wasn't that wrapped up in the numbers. My curiosity as I looked around the grounds was with the people to lag ratio. Some examples of lag are when you tell your avatar to do something or you try to move your view around and the overloaded system takes its time responding to your request — or freezes up completely. Usually when that many avatars are in one place SL's performance can noticeably deteriorate. The expo didn't suffer much lag for me at all.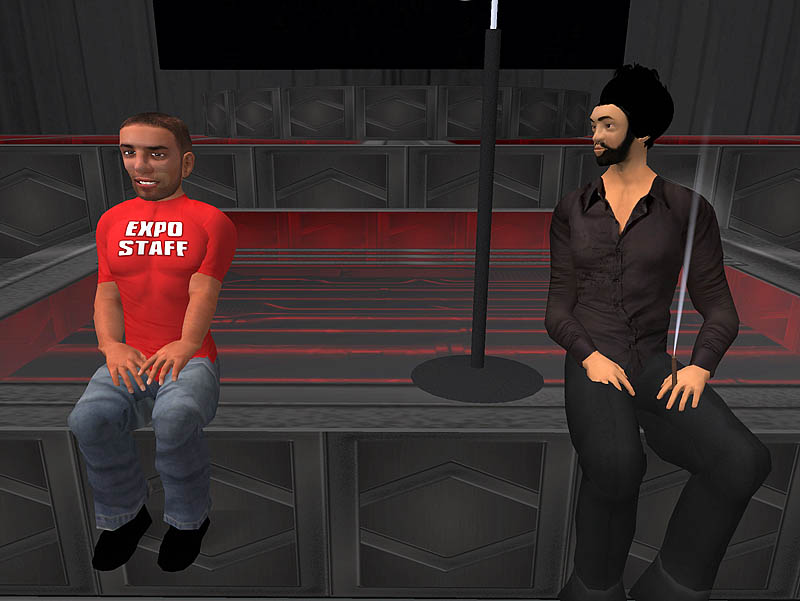 Sol Bartz (Phil "Overman" Rice) and gToon Jun (Ricky Grove) holding an Overcast in SL (click image for full size).
So much for my digression into geekhood. I also wanted to mention that I saw Lainy Voom doing some excellent building at the expo during the days I would visit prior to the occasion. I always saw Phil's avatar Sol Bartz there working diligently to construct the grand exhibits and walkways and theaters. And Michelle Pettit-Mee's t-shirt designs for the event were a sight to see! Everything was perfect, you guys and gals!
For a complete list of the award recipients, the panelists, the films and show reels, please visit the MachinExpo site. And, I am very sorry I don't know the name of the person(s) who owns Jamville and supplied the land for the expo, but they must also be thanked and commended.
And finally: rest in peace, Antics! Maybe someday you can rise again!
4 Responses to "What an Expo!"
Leave a Reply